A lot of us were thrown for a loop by the CDC's advice on April 3 to wear non-medical masks in public — after we'd been told for weeks not to do so. Suddenly, we all needed masks — but not N95 respirators or surgical face masks, which needed to be reserved for front-line health workers (and still do). For those readers who don't yet have a mask, and those who have one but need more (and also for those who want to donate some), today we're rounding up the best face masks for coronavirus. (Remember that a non-medical mask is more effective at protecting other people from you than protecting you from people who are sick. Don't let it give you a false sense of security.)
We're limiting our focus to sources of masks and ways to donate them, so here are some helpful articles on how to use them properly: how to clean masks, whether you need a filter inside your mask, how to stop your glasses from fogging up when you wear a mask. (For more info, see the Further Reading links at the bottom of this post.) 
This post contains affiliate links and Corporette® may earn commissions for purchases made through links in this post. For more details see here. Thank you so much for your support!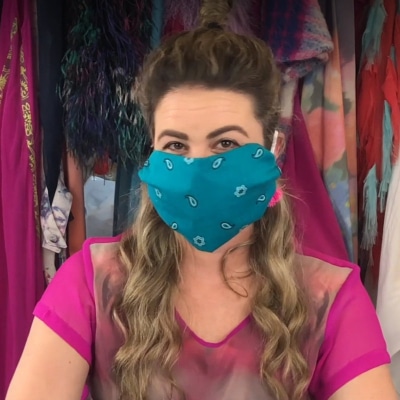 DIY Masks
If you want to make your own mask, it can be confusing to know which design and which fabric to use. A study by the Wake Forest Institute for Regenerative Medicine found that the best material is "[T]wo layers of high-quality, heavyweight 'quilter's cotton' with a thread count of 180 or more, and those with especially tight weave and thicker thread." The Missouri Institute of Science and Technology has studied various face mask materials and found that a bandana performed the worst, while, for example, four (!) layers of a 400-thread-count pillowcase did significantly better.
If you have the time, this NYT story has a detailed review of the options — but a quick and simple way to rank potential fabrics is to hold them up to the light. The more light they let through, the less effective they will be in a mask. 
Here are directions for making your own face mask: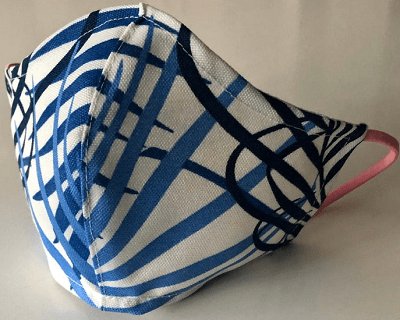 Non-Medical Masks Available from Crafters 
Etsy is a hugely popular source of face masks right now — they're being produced by 20,000 sellers, some of whom are working 12 hours a day. If you can't find fabric masks locally and don't want to make one, buying from individual crafters (on Etsy or otherwise) is a nice way to support small businesses during coronavirus.
Here are a few crafters around the country who are selling masks: 
The seller Mila's Beach House (Seattle, WA) was recommended to me recently, and the masks are very highly rated. Each double-layer, washable mask is $18 and has an insert pocket for a filter, which adds another protective barrier. Several fabric designs are available in medium, large, and toddler sizes. (Note that the seller has temporarily run out of white elastic for the ear loops and is currently using colored elastic.) 
Akos Regal (Baltimore, MD) is another recommendation I've received (source: my mom), and the seller's double-layer, highly rated masks are $14.95. The machine-washable fabrics have vibrant and colorful prints that might make you feel a teeny bit better about having to wear a mask. (Hey, I'll take what I can get right now.) For every mask purchased, one will be donated to a local hospital. (Note: The fabrics are described as "Ankara African prints," which made me wonder about cultural appropriation until I discovered the seller is from Ghana, i.e., it's not a case of a white person profiting from another culture's traditions.) 
I've bought some cool jewelry in years past from Circuit Breaker Labs (Washington, D.C.), which is now selling masks with science-themed patterns (as well as solid colors) and ear savers. (I have the latter, and they're great.) The masks are made from 100% cotton, a cotton blend, or 100% polyester, depending on the color and pattern, and you can choose between elastic ear loops or adjustable ribbon ties. Soon, more designs will be available, as will masks with filter pockets and nose-piece pockets.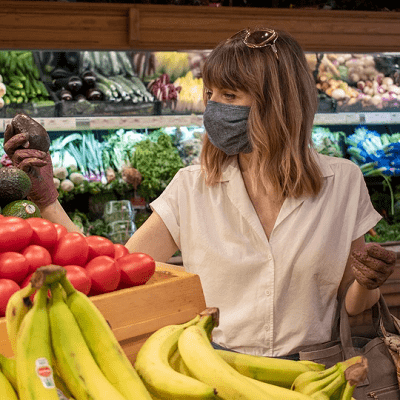 Non-Medical Masks Available from Fashion Brands
Amy Kuschel is making stylish face masks for everyone (pictured above), as well as stylish covers for N95 face masks for healthcare workers (currently there's a waitlist). 
Reformation is selling a 5-pack of masks for $25 and also offers a 5-pack for donation. Fabrics (cotton blends, Tencel) and colors may vary. The masks have tie straps and are machine wash, tumble dry low. They ship in 3–7 days. 
Emilia George, a new maternity brand in NYC, is making 100% sustainable face masks. They're made from 100% cupro, a cotton by-product that is very breathable, and they're available in four colors: blue, red, blush, and mint. They are $10 each, and right now you can preorder for shipping by May 10. 
A reader recently recommended the face masks from BlaqPaks, a small Portland, Oregon, company. They have several fun prints (cherries, space, and so on) with more to come. The machine washable masks are made of two layers of cotton with a flannel inner liner and are $10 each. They are currently shipping the next business day, and if you live nearby, you can pick up at the store. 
Another reader suggested Los Angeles Apparel, which is selling a 3-pack of masks for $30. The 100% cotton masks have an adjustable nose and straps, and they are machine wash, tumble dry. The company is also donating masks. 
RoHo normally produces shoes, jewelry, bags, and other items made by artisans in Kenya (mostly women) who are employed ethically and paid fairly. To help these artisans during the pandemic, the company created the RoHo Food Security Fund. Each dollar spent on their website will provide another meal for the artisans and their families — and 100% of the profits from RoHo's face masks, made from colorful Kitenge African fabric, will support the fund. The double-layer, washable masks have nylon ear loops and are reversible — just be sure to wash them before reversing. They are $15 each. (Unlike RoHo's usual products, they're made in the U.S.) (Full disclosure; Kat is friendly with RoHo's founder.)
Forbes has a whole roundup of fashion companies making face masks — custom shoe brand Oesh is new to us but their 3-D printed face mask looks awesome.
Where to Donate Masks  
Whether you're looking to donate handmade masks or store-bought ones, here are some ways to help:
A new app called HealthEquip connects donors with hospitals that need supplies (medical-grade preferred). The hospitals cover the shipping, which is provided by UPS. You can learn more from this USA Today story. 
The nonprofit HumankindNOW is aiming to raise $500,000 to provide PPE to front-line medical professionals. Here is the GoFundMe.
If you drop off masks at any JOANN Fabrics location, the company will pass them on to hospitals and healthcare systems that have requested handmade masks. 
The New York Times explained how to donate N95 masks to NYC hospitals. 
United Farm Workers needs monetary donations to provide reusable cloth masks to essential farm workers; each mask costs $6.25 to purchase, ship, and distribute. 
Are most people wearing face masks where you live? Has your local government required residents to wear them, or is it voluntary? Have you made or bought face masks — and what are you finding is the most comfortable/wearable option while still protecting you? Where have you found the best face masks for coronavirus? 
Further Reading: 
Use of Cloth Face Coverings to Help Slow the Spread of COVID-19 [CDC]
When and how to use masks [WHO]
How Not to Wear a Mask [NYT]
How to Choose and Wear a Mask During the Coronavirus Pandemic [Consumer Reports]
Face masks for COVID-19: A deep dive into the data [Ars Technica]