Today, let's discuss: what is the "Zoom shirt" for women? There was an interesting article the other day about a guy who has worn the same shirt for every Zoom call he's been on since March. He started doing it just to be funny, and see who noticed, but then:
He has worn it for video calls on 70 consecutive days. This was not his plan. "My ego thought someone would notice," said Mr. Farrell, the executive vice president of the comedy empire Funny or Die.

No one did. Not one of the half-dozen co-workers he sees every day via screen said anything. Neither did the 50-odd entertainment industry executives he Zooms with week after week. This is a man who once owned 210 shirts because, as the host of a design show on TLC, he couldn't have viewers see him repeat.

Finally, the terrible secret of this single garment became too much for Mr. Farrell to bear. He began confiding in colleagues about his Zoom Shirt.

"Every time I've outed myself, they say, 'Oh, yeah,' and they pull up two shirts hanging on the back of their chair," he said.
My husband is definitely guilty of this — he'll put on a collared shirt or a polo shirt in place of, say, his latest geek Dad shirt.
A friend was wondering: What is the Zoom Shirt for women?
I have a few ideas, but I'd love to hear yours… Do you have things that you keep at the ready in case you are going to have a Zoom call? Do you rotate among a few items or do you literally just wear the one thing?
(Psst: Do check out our recent roundup of the best tips for video conference calls!)
This post contains affiliate links and Corporette® may earn commissions for purchases made through links in this post. For more details see here. Thank you so much for your support!
For my Zoom calls, everyone has been pretty laid back, but I will admit that I realized early on that a particular pair of glasses look best on Zoom (a light blue Warby Parker pair from a few years ago), and a pretty pink lip gloss also helps me look awake and alive. I would also argue that a necklace with a substantial pendant (not super teensy, like a my beloved initial necklace) is great to frame your face. 
As for earrings, I say that depends on your Zoom style — if you're wearing a large headset they won't be visible at all, for example!
A friend of mine just shared that, after trying a few highlighters, Becca is her hands down favorite for Zoom calls — now I'm going to have to do my own contest of different highlighters to see which I prefer for Zoom. Hmmn.
My top vote for "Zoom shirt," though, is a sweater jacket with a collar –– it adds structure and polish without taking away comfort or seeming out of place since everyone knows you're working from home. (You do you, but I'd probably save a more tailored blazer look for an interview, court "appearance," or some other Very Formal Zoom Call.) 
Here are a few suggestions from some of our long-running reader favorite sweater jackets for the office…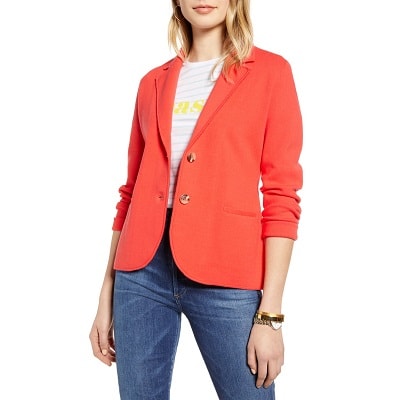 Sweater Blazer (regular & petite — most colors 58% off!)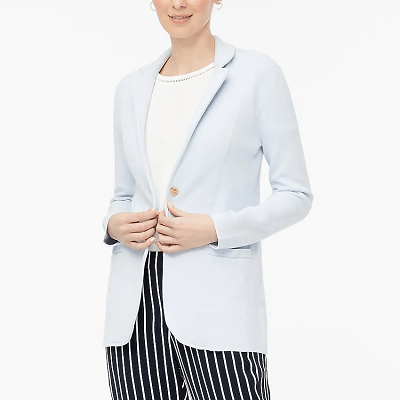 J.Crew Factory Sweater Blazer (reader favorite!)
Sophie open-front sweater-blazer (at J.Crew and, sometimes, Nordstrom)
Readers, how about you — do you find yourself reaching for something special to wear for Zoom calls? What is "the Zoom shirt" for women, in your opinion?
Stock photo via Deposit Photos / VadymPastukh.