Sure, we all know what basics professional women are supposed to have in their closets, but if you're buying one for the first time or replacing one you've worn into the ground, it can be a pain to find exactly the right incarnation in stores. In "The Hunt," we search the stores for a basic item that every woman should have.
Here's something we haven't talked about in far too long — which are the best tees for layering at the office, particularly for wearing under blazers, sweater jackets, cardigans, and more? Which ones are your favorite for "fancier" looks — and which ones are your favorite for daily wear because they're machine washable, don't cling, etc? Which t-shirts look good with work outfits — as well as weekend outfits?
For my $.02, I've always been a huge fan of t-shirts under suits — particularly compared to sleeveless looks. A simple black tee is washable, will protect your suit from sweat, and you always know you can remove the blazer if you get hot, rather than worrying about what the office culture is regarding sleeveless looks.
A simple t-shirt should ideally be a thick(ish), non-clingy fabric. I've always been a fan of scoopnecks because they feel a bit fancier than V-necks — and crewnecks have never felt flattering on me personally.
We've talked before about ways to elevate a simple t-shirt for work outfits, including layering them beneath cardigans and sweater blazers, adding brooches, and more.  
To review, here are a few of the Hall of Famers we've included over the years: 
This post contains affiliate links and Corporette® may earn commissions for purchases made through links in this post. For more details see here. Thank you so much for your support!
Hall of Famers: Caslon, J.Crew, Three Dots, Splendid, Eddie Bauer, and L.L. Bean.
$25 or Under: Caslon, Banana Republic, J.Crew, Everlane, L.L. Bean, Uniqlo, J.Crew Factory, Banana Republic Factory, and Target (New Day)
Opaque: L.L. Bean and Uniqlo,
Organic: Cuyana, Everlane, Eileen Fisher, H&M Conscious, and Fair Indigo
Silk(y): Banana Republic, Boden, Club Monaco, Of Mercer, Cuyana, and Ravella
Usual suspects for "interesting" tees for work: Ted Baker (also at Nordstrom), Akris Punto & Lafayette 148 New York (personality necklines), for a variety of prints check Boden, Ann Taylor, Talbots, and L.L. Bean.
Bodysuits (these are coming back in a HUGE way!): Tuxe, Everlane, Free People, Z Supply, Only Hearts, Commando, Express, Leith, Wolford and Yummie
Plus sizes: Universal Standard, Eileen Fisher, Talbots, L.L. Bean, Lands' End, Modcloth, Eddie Bauer, and Ravella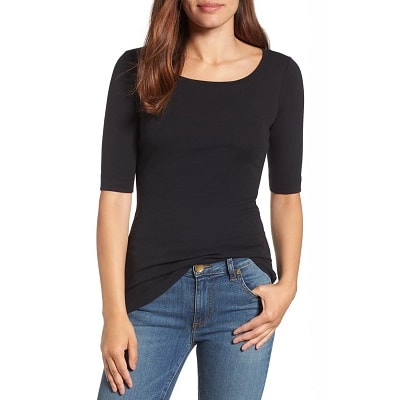 Call me crazy, but ballet sleeves always feel elegant — and this Caslon t-shirt has been a best-seller for years. They currently have a TON of lovely springy colors in stock, including not one but two light blues. Huzzah! The shirt is $25 and comes in sizes S-XL. Caslon Ballet Sleeve
The J.Crew slim perfect scoopneck also has slightly longer sleeves, and is a perennial reader favorite — it's $35 and comes in sizes XXS-3X. Banana Republic and BR Factory's timeless tees also look great for the price.
White House Black Market has always been mentioned by readers in the past as having great tees; they're all around $39.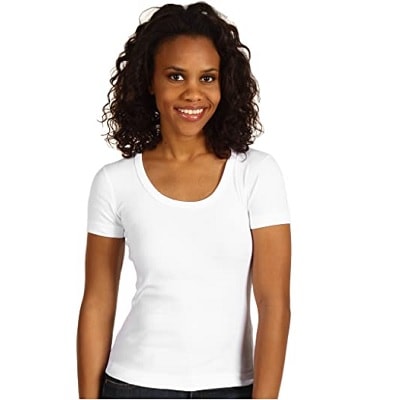 There are a number of what I would call "fancy t-shirt brands" that make work-acceptable ones, of course — I'd include Three Dots (pictured), Splendid, James Perse (lots at Nordstrom Rack right now!), and Michael Stars.
Another option: readers have recommended some of the more outdoorsy brands over the years, include L.L. Bean, Lands' End, and Eddie Bauer.
I've shared my theory before: denim styles affect workwear styles because you end up buying new tops for new denim shapes, and in turn you end up wanting to wear those newer tops to work.
There's a lot of talk right now about skinny jeans being out — and looser jeans/balloon jeans being "in" — which I think explains why bodysuits are now EVERYWHERE. After all, if you're wearing a more voluminous bottom you'll want a tighter top. (Readers, what are your thoughts on bodysuits? I'd love to hear them…)
The Everlane bodysuit pictured above is a nice, basic crew neck for $35 — compare that to fancier versions from Adea or $85, Tuxe for $125, or Wolford for $110-$220.
More spots to look for basic bodysuit t-shirts for layering with office looks: Free People, Z Supply, Only Hearts, Commando, Express, Leith, Wolford and Yummie.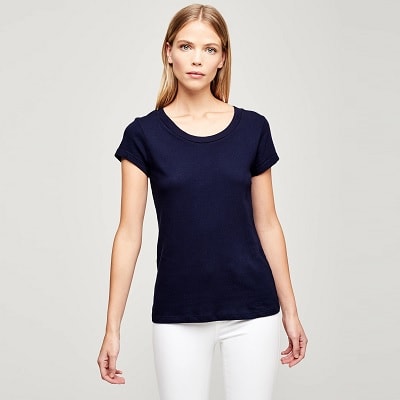 If you're feeling fancy, of course, there's a huge range of designer tees. Some of the ones I hear mentioned a lot as excellent tees (particularly basics to layer with office looks) include L'Agence (pictured), Vince, Rag & Bone, and Frame.
These are all around $80 and up; the L'Agence on above is $85 at Nordstrom and L'Agence.com.
A few more affordable picks that somehow feel like they fit in this category include Universal Standard (their tees are around $50 and come in sizes 00-40) and Cuyana($35 but it looks really lux for some reason).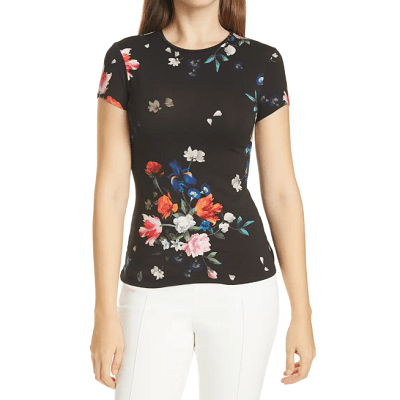 Printed t-shirts can be another option, of course, and a great way to add some personality to your outfits — but finding sophisticated prints can be tricky.
Ted Baker always excels at this, I think — tops like the one above can be found at Nordstrom, Amazon, or TedBaker.com for anywhere from $32 (like the pictured one, on sale!) to $95 (full price).
For a variety of other printed jersey t-shirts check Boden, Ann Taylor, Talbots, and L.L. Bean — I'd love to hear if you guys know of any other places!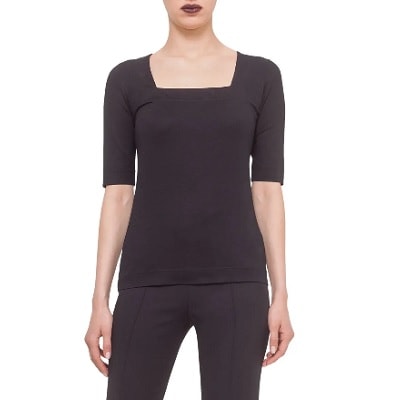 An unusual neckline can be a nice way to make a t-shirt feel a bit fancier. This square-necked one from Akris Punto has been around for a while and is $295 at Nordstrom. Lafayette 148 New York is another brand that historically makes what I've called "personality necklines" in the past — there's an interesting keyhole-shaped one at Nordstrom right now for $298.
A quick hunt for other square-necked t-shirts found them at Loft, Modcloth and new-to-me store Kettlewell (specializing in basic t-shirts in a huge range of colors).
Like this feature? Check out other recent installments!