Sure, we all know what wardrobe essentials for work professional women are supposed to have in their closets, but if you're buying one for the first time or replacing one you've worn into the ground, it can be a pain to find exactly the right incarnation in stores. In "The Hunt," we search the stores for a basic item that every woman should have.
So here's something we haven't talked about in far too long: which are the best women's weekend t-shirts? I've been jokingly calling this post "best t-shirts for the apocalypse" in my mind for a while now, but it's been far too long since we discussed great t-shirts, so let's do it! We've rounded up the best tees for layering beneath blazers and sweaters, opaque white t-shirts, and work-appropriate t-shirts — but it's been years since we talked about the best women's weekend t-shirts. What do you look for in a t-shirt — and where do you draw the line between "weekend t-shirts" and "t-shirts for layering beneath blazers or cardigans"? 
For my $.02, I hate ones that are too clingy — and I like ones that come in a variety of colors, are generally opaque, and wash and dry very easily. I think a pocket makes a t-shirt look inherently more casual. I mostly prefer V-necks (great if you have a collection of pendant necklaces), but scoopnecks are also a favorite (better paired with rounder necklaces). I almost never wear crew necks because they just aren't flattering on me (short neck, big bust). Speaking of accessories like necklaces, how else do you accessorize your t-shirts — scarves? Cardigans? Double layers of t-shirts with different colors peeking out? Do tell… 
This post contains affiliate links and Corporette® may earn commissions for purchases made through links in this post. For more details see here. Thank you so much for your support!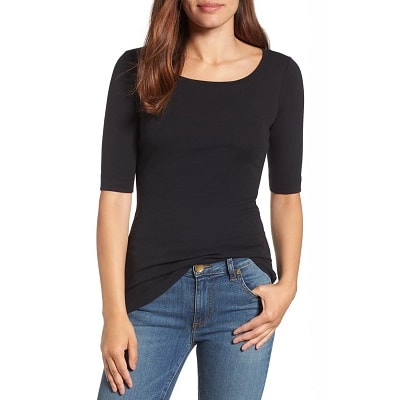 This ballet neck t-shirt from Caslon has been a best seller at Nordstrom for a thoussssand years. It comes in about 40 colors right now (seriously, scroll down!), many of which are 40% off today, bringing them down to $15 (normally they're $25). I have a few of these — they're very soft, and the combination of the wide scoop neck and elbow-length sleeves makes them very elegant. I think these are great for both work and weekend. Find them in regular, petite, and plus sizes.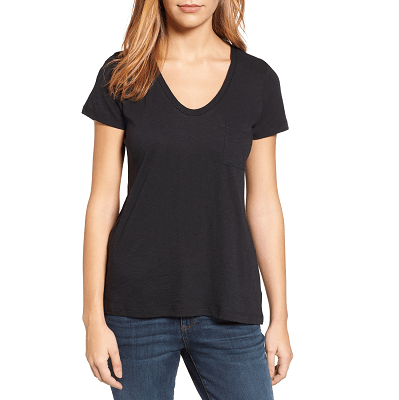 Another best-seller from Caslon: their rounded V-neck t-shirts, available in regular, petite, and plus sizes — I have these and like them a lot. I'd say they're more similar to the fabric of the Madewell Whisper t-shirts (below) than they are to the ballet neck shirts (above) — more casual, a bit thinner/lighter. The pockets make these more casual, in my opinion, but I really like the rounded neckline.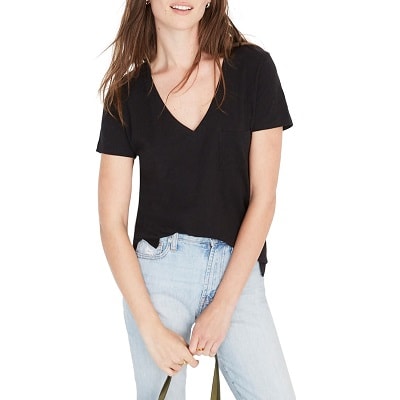 Madewell's Whisper tees are incredibly popular — super soft and cozy; a bit on the thinner side compared to the Caslon ballet one at the top of the post. I love that they're available in sizes XXS-3X, and think they wash really well. They've been showing up for a few months now in our lists of most-bought items, including as V-necks, crew necks, and tank tops. Find them at Madewell, Nordstrom, Shopbop, and occasionally Nordstrom Rack.  
I have a number of the t-shirts on Amazon's "best-selling t-shirts" list, including this Amazon Essentials tunic tee — if you're looking for something to wear with leggings this is a nice option. Like all of the Amazon Essentials/Daily Ritual tees I've gotten this one is a stretchier, smoother fabric than the cotton Caslon or Madewell ones (pictured above) — better for layering — but they're still as black as the day I got them, with no fading. I like that while they're stretchy, they're not clingy. (I also have the Daily Ritual boatneck and I'm sure I have at least one of the super popular Amazon Essentials basic tees (sold in a two pack for $16).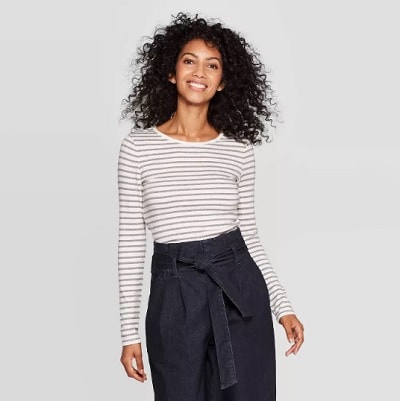 Merona tees were always reader favorites (back in the days when Merona existedas a Target brand), and I've seen a lot of readers sing the praises of New Day tees — including Elizabeth. As she noted in her review, "They're a good length, super soft, and not paper thin." (The pictured crewneck tee is almost sold out but there are lots of other options.) I've also seen people singing the praises of Universal Thread t-shirts — I have a few and think they're very similar to the Madewell ones above, but (maybe this is me) I think the Madewell ones keep their shape/size better after repeated laundry cycles.
Which are your favorite weekend t-shirts? How many have you bought of the exact same t-shirt, and which ones do you keep going back for?  
Like this feature? Check out other recent installments!