I recently saw a reader threadjack on how to store jewelry and thought, OH, I have opinions on this — in fact, a ton of products I've bought from Container Store and Amazon, all of which I'm pretty happy with. It's been years since we talked about jewelry organization, so I thought it might be a fun topic for today. 
Ladies, what do you use to store jewelry? What are the jewelry storage systems that are working for you in that they're neat, you can find what you want when you want it, and you can easily access your entire collection? What are the jewelry storage systems you're still hunting for?
This post contains affiliate links and Corporette® may earn commissions for purchases made through links in this post. For more details see here. Thank you so much for your support!
1. How to Store Jewelry: The Hidden Drawer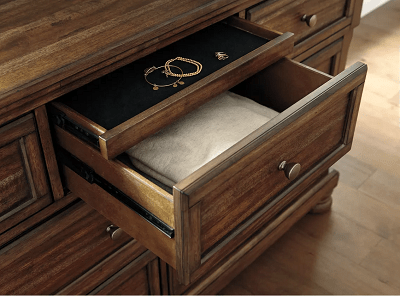 For me, the main collection of earrings and rings I wear regularly is in a hidden jewelry drawer in my mule chest — in fact, part of the reason we opted for a mule chest instead of a dresser was because the only thing I'd used a dresser for in the past was collecting jewelry. Ours was custom made in Amish Country near where I grew up in Ohio (Homestead!), but the above image (Ashley dresser, $680 on sale) is similar. (Mine has more compartments.) 
2. How to Store Your Necklaces
I have a multi-pronged solution to this because, well, I am crazy.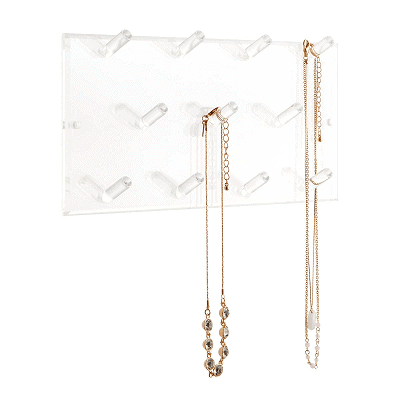 The first thing I use and love are these acrylic hooks, which I've mounted to the wall in a variety of places, currently behind the door to my closet. For years and years I had two of them, but I recently increased my collection to four. 
The vast majority of my necklaces are 16″-18," with the exception of a few opera-length ones at 36″ or so — so this works for me. The few long pendants I have that are probably around 26″ are just hung on the bottom hooks.
They're $10.99 at the Container Store.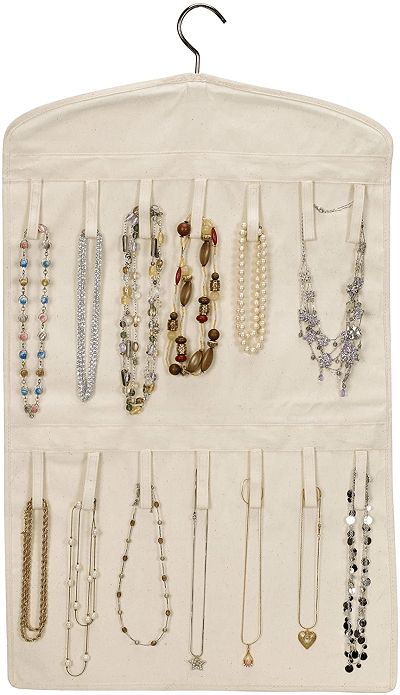 This necklace organizer was an Amazon purchase years ago — I actually have two of them; the front side has three rows to accommodate shorter necklaces and bracelets; the back side (pictured here) is good for bigger necklaces. The necklaces are held in place by velcro loops. This is where I store all of my statement necklaces, chunkier necklaces, or my general "not every day" necklaces. 
It's $22.99 at Amazon.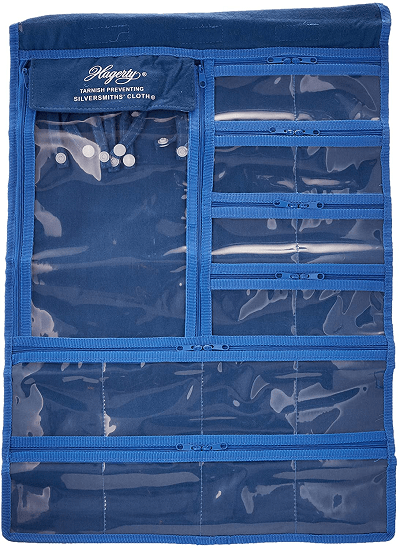 This was a recent purchase — I have a bunch of silver jewelry that isn't quite everyday jewelry, so I had been storing it in this odd bag I got with a Jill Platner purchase years ago. (Like a very thick Ziplock but for silver storage — I bought these similar anti-tarnish bags a while ago but never managed to work them into my system.) It wasn't very large but I kept shoving stuff in there. After a while, I forgot what I had in there, couldn't see it, etc. 
I did some hunting and found this hanging organizer that uses silver cloth and zippers to store silver jewelry — and voilà, I can see my collection again! I've only had it about six months but no complaints yet. 
I thought I got it at the Container Store, but am not seeing it there right now — you can also get it at Amazon for $49. 
3. How to Store Earrings and Rings
Like I said, my main way of storing these is in my hidden dresser drawer — but the other system I've used for years are these compartmentalized boxes: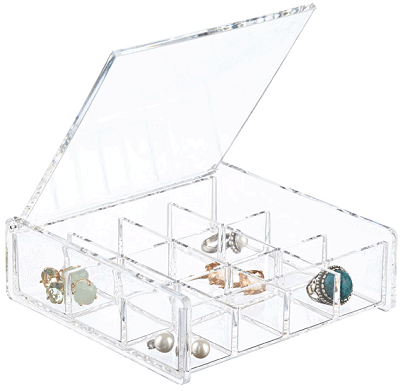 The pictured ones above are acrylic from The Container Store (12 compartments, $9.99) but I also have some velvet-backed options from Amazon, kind of like the ones you'd see at a flea market — they're not my favorite but they are stackable.
For some reason I just prefer clear ones. (The ones I actually have are a milky white plastic, kind of like these $7 ones from WalMart — instead of having one hinged top each container's top opens individually, so I just hold it up to the light, look beneath it, and see what I want.)  
4. How to Store Bracelets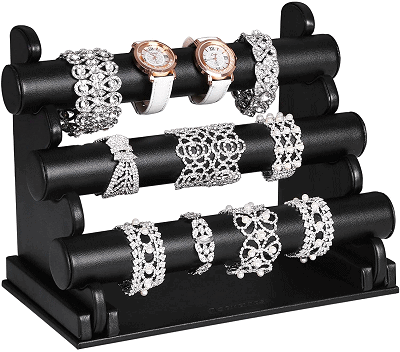 I really don't have a ton of bracelets — I hate clanking — but I store most of mine on nice little display stands; the one I have is pictured; it's $17.99. (Clearly I need to increase my collection of diamond bracelets (kidding).) 
Container Store also has some similar options in acrylic for $14.99-$19.99.  
 5. How to Store Brooches, Hair Accessories, and Others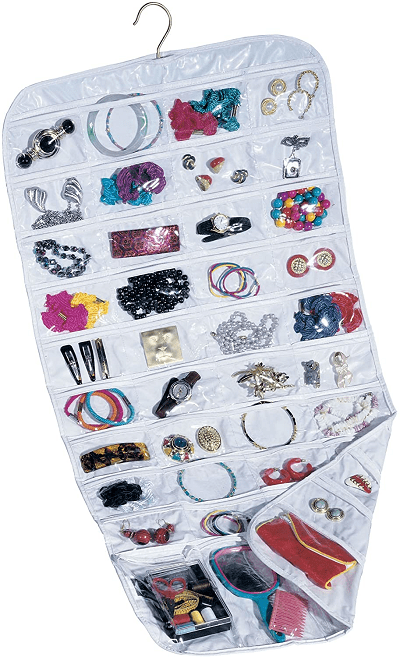 Finally, I have two of these pocket-hanging things also — over the years I've used them for earrings, brooches, very delicate small necklaces wrapped around business cards, large rings and earrings that won't fit in my other systems, nice hair accessories (like this reader favorite clip), and more. 
The front side (pictured) has lots of little small compartments; the back side has slightly larger compartments. It's $12.99 at Amazon.
Readers, how do you store jewelry? What systems work best for you — and what are you still hunting for? (How often do you go into your "archives" to refresh your daily collection?)