Transformation of the Day: Geraldine lost 62 pounds. She recently celebrated her 60th birthday and celebrated reaching her goal of losing 60 lbs by that birthday. She is the caregiver for her father and cared for her now-deceased fiance' for over two years. She realized that she was very stressed out and had lost focus on her own health. So, last year, she decided to start prioritizing healthy food, exercise, and self-care.
SW: 284 pounds
CW: 222 pounds
FGW: 200 pounds
LGW: 180 pounds
I started my journey to healthier living in April 2020 at 284 pounds. I am the caregiver of my 89-year-old father, and I assisted in caring for my deceased fiance' for over two years. My main focus was providing the best care I could give them. In doing so, I lost focus on my own health and was constantly under stress. 
Last year I decided it was time to practice self-care. Unfortunately, due to the pandemic, I could not go places to get away to relax. So I decided I'd start doing morning walks daily to calm my mind before beginning my caregiving duties. In the beginning, I could only walk a block. Those times when I started to feel tired, I would challenge myself to go a little further. I realized I was beginning to feel better mentally and physically. Over time, walking a block turned into walking three miles daily and sometimes more. I was becoming more relaxed and energized the more I was on the move. 
I began to change my diet as well by making wiser food choices. I made it a point when shopping to look at the ingredients and nutritional values of items. This sometimes deterred me from purchasing certain things because they weren't healthy. 
I started eating more vegetables, fruits, and whole grains. However, I didn't deprive myself of snacks or foods I really wanted. Instead, I would eat them in moderation and add additional exercise (i.e., walking, bike riding, or working out with an exercise video). 
I embraced a healthy lifestyle to change my life for the better. I'm finally making myself a priority. I decided to set my first goal to lose 60lbs by my 60th birthday, which was October 17th, 2021. I exceeded my goal by losing 62 pounds. 
I'm 5'3″ and presently weigh 222 pounds. My next goal is 200 pounds. to be followed by 180 pounds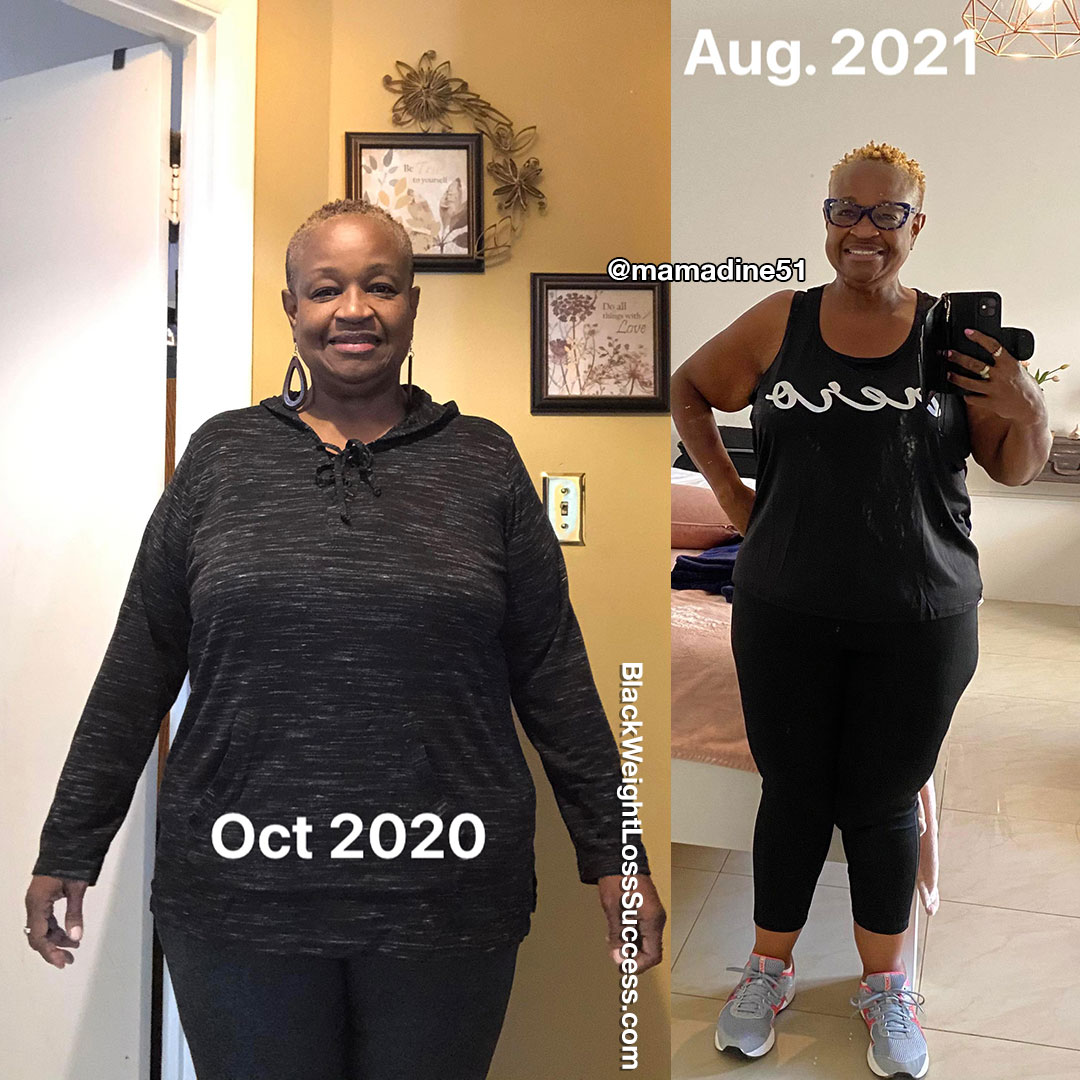 What is your current workout routine?
I walk 3 miles or more daily. I use my caregiving duties as exercise as well. The lifting, pulling, and bending are beneficial for toning and strength building. I periodically work out on Youtube exercise videos if I can't get my walk for the day. 
How long did your transformation take?
It has been an ongoing process over the past year and a half. I don't have a timeline to reach my goals, because slow and steady results are fine with me. My main goal is to be healthy and happy being the best I can be. I'm not done yet, because it's an ongoing journey to healthy living! I'm 60 and soaring to higher heights! Thank you, Lord!
Is weight loss surgery part of your journey? 
NO, I'm proud of myself because I'm doing it with sheer determination and prayer.    
What is the biggest lesson you've learned so far?
I've learned that I have to make myself a priority and practice self-care.
What advice do you have for women who want to lose weight?
Make your health a priority. Something to keep in mind is, another person's way of losing weight may not fit you. Make it a point to do something that you enjoy doing. If you do an enjoyable activity, you will most likely stick with it. 
If you fall off, don't beat yourself up. Regroup and get back in the race. 
Instagram: @mamadine51