For most of us, being productive — whether in our personal lives, professional lives, or both — is harder than ever these days (make that "this year"), so we figured this would be the perfect time to share some great books on productivity. We've rounded up six books to check out: three classic titles and three newer books that seem to be turning into classics in their own right. What are your favorite books on being more productive and better organized? How about other resources for improving your productivity, such as planners, TED Talks, podcasts, and others? 
In the past, we've talked about productivity hacks, scheduling breaks to increase productivity, and how to make the most of your productive times. Feel free to share your own general productivity tips in the comments! 
This post contains affiliate links and Corporette® may earn commissions for purchases made through links in this post. For more details see here. Thank you so much for your support!
Here are 6 great books on productivity: 
Getting Things Done: The Art of Stress-Free Productivity by David Allen (Amazon, Bookshop)
Getting Things Done — "GTD," for short — is one of the best-known books on productivity. (We included it in our post on must-read business books a few years ago.) Since it was published almost 20 years ago, it has spawned a website, a podcast and a blog, coaching services and events, a GTD workbook, and more. Of course, you don't really need anything besides Allen's basic strategies, which strongly emphasize staying organized, effectively classifying to-dos, and breaking up projects into clear, logical steps. When I finished reading GTD (which was several years ago), my copy of the book ended up full of little flags marking particularly useful tips — it really made sense as a system.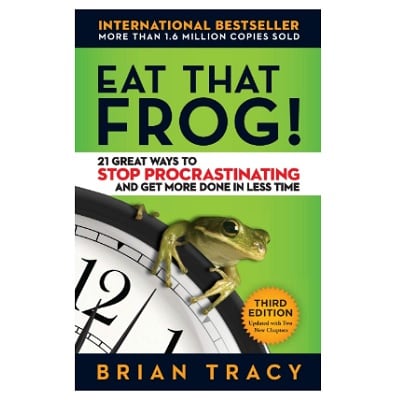 Eat That Frog! 21 Great Ways to Stop Procrastinating and Get More Done in Less Time by Brian Tracy (Amazon, Bookshop)
This is another classic productivity book — and another that we've recommended in the past, in our post on five ways to improve your focus. I picked it up on a whim at an airport years ago, and when I read it, I thought the author had some really helpful, basic strategies. While some people like to accomplish the smaller tasks on their to-do list first to easily get momentum and an energy boost, the main advice from Eat That Frog is, yes, "eat the frog" first: Instead of starting with something easy, tackle that big, important, intimidating project (that you may have been putting off). This book is a quick read, and the philosophy is simpler than, say, GTD's detailed techniques.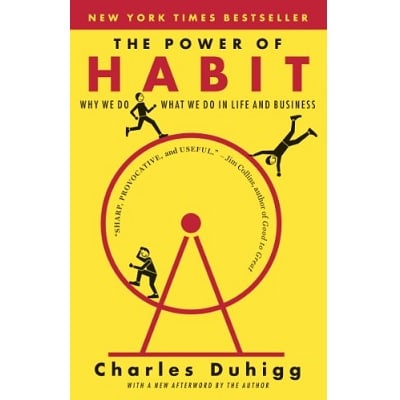 The Power of Habit: Why We Do What We Do in Life and Business by Charles Duhigg (Amazon, Bookshop)
Here's one more classic productivity book: The Power of Habit, written by a Pulitzer Prize-winning journalist and author. My husband recently read this book as part of his EMBA program, and he found it interesting and worth the read. The book highlights the value of getting certain things accomplished without having to apply conscious thought. When you've condition yourself to do them automatically, you'll free up your brain to concentrate on higher-order tasks. This book takes a higher-level view than the two above by analyzing the practices and successes of well-known individuals and companies, such as Starbucks CEO Howard Schultz and Procter & Gamble, and using them to illustrate the concepts.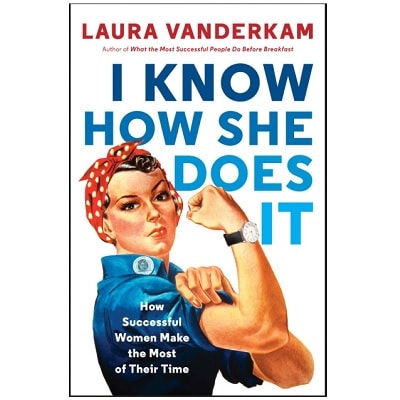 I Know How She Does It: How Successful Women Make the Most of Their Time by Laura Vanderkam (Amazon, Bookshop) 
We recommended this title in our post from a couple of years ago about six books to help you achieve your New Year's resolutions. It's different from the other books on our list, not only because of its focus on working mothers, but because it uses a ton of specific data from women's lives to create its recommendations for better productivity and work-life balance. Vanderkam collected 1,001 days' worth of time logs from working moms who make at least $100,000 a year. Her analysis of these women's lives, and how they each used their 168 hours per week, led her to suggest several strategies, such as rethinking the meaning of quality family time and leaving behind the 9–5 (or 8–6, and so on) work schedule. Check out her TED Talk for an introduction.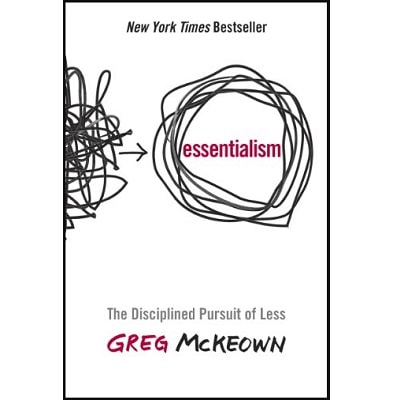 Essentialism: The Disciplined Pursuit of Less by Greg McKeown (Amazon, Bookshop) 
Greg McKeown wrote Essentialism for people who feel overworked and busy, and not in control of their schedules — and unproductive. The book gives advice on how to evaluate how essential certain things are, and then eliminate the ones that aren't — only aiming to get "the right things done," not everything. (This kind of reminds me of Marie Kondo's philosophy.) The ultimate goal is to stop feeling overwhelmed and instead feel in control while managing to find "joy in the journey." If this sounds intriguing, you can get the first chapter of the book for free by signing up for McKeown's newsletter. (McKeown recently announced his new podcast, also called Essentialism, which might be worth a listen, too.)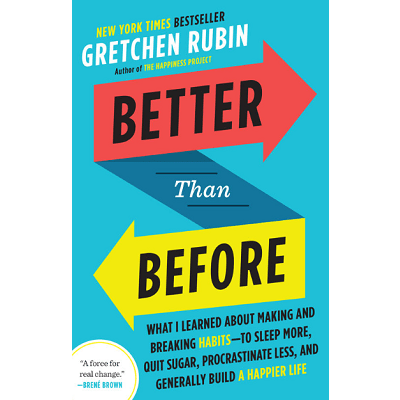 Better Than Before: What I Learned About Making and Breaking Habits — To Sleep More, Quit Sugar, Procrastinate Less, and Generally Build a Happier Life by Gretchen Rubin (Amazon, Bookshop)
You may know of Gretchen Rubin from her bestseller The Happiness Project, which grew from a blog and book into a whole movement. (Fun fact: Rubin clerked for Justice Sandra Day O'Connor for a year back in the '90s.) She wrote Better Than Before to explore the ways that we can build good habits, get rid of bad ones, and achieve our goals. Rubin explains her 21 strategies (tested by her and her family and friends) that can help readers improve their lives, and she proposes the four "Rubin Tendencies," which sort people into Upholders, Questioners, Rebels, and Obligers, according to how they respond to expectations. (Now I want to find out which type I am…) 
What are your favorite books on productivity? Are there any that you've read that were especially helpful — or unhelpful? What are your favorite hacks and strategies for better productivity?