Following a specific eating plan can be a lot of hard work – it's why a lot of them fail. However, this collection of no-hassle paleo Instant Pot recipes will show you just how easy it is to prepare soul-satisfying meals – like butter chicken and cauliflower chicken – which are full of natural goodness without any of the processed, refined foods and dairy products which you're working so hard to avoid.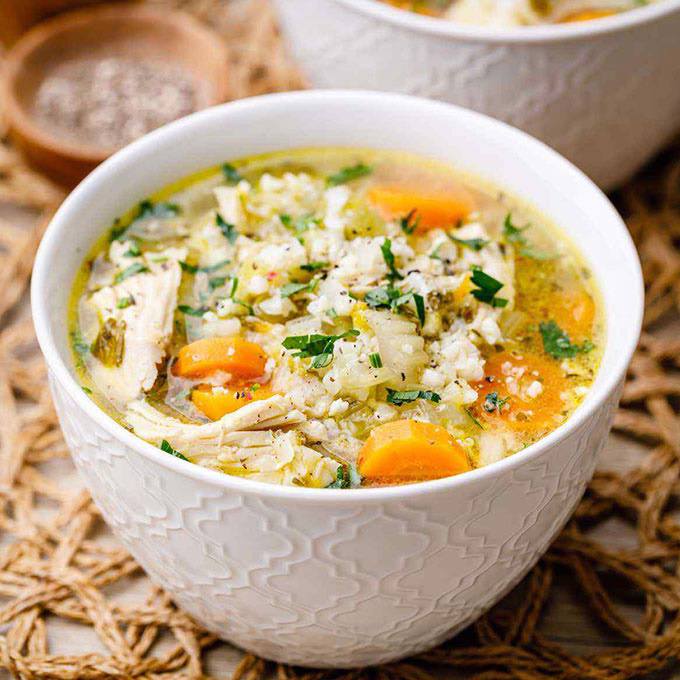 Low Carb Instant Pot Chicken and Cauliflower Rice Soup
paleogrubs.com
Sauté the vegetables and garlic first and your chicken and rice soup will be bursting with flavor, and don't worry about the carbs because the rice is made from cauliflower.
---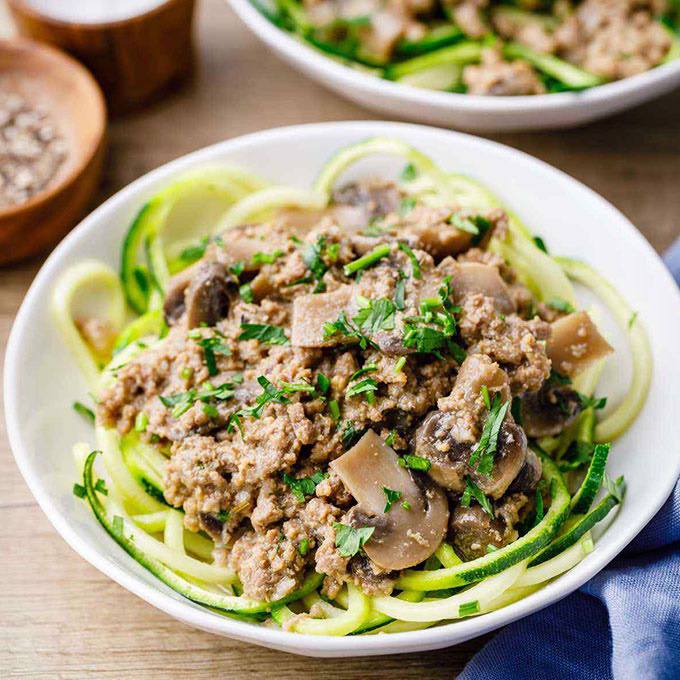 Ground Beef Stroganoff
paleogrubs.com
With Dijon mustard, rosemary, and garlic, this paleo-compliant ground beef stroganoff is both fragrant and tasty, and it can be made in the Instant Pot in less than 30 minutes.
---
Paleo Chicken Vegetable Soup
paleogrubs.com
This chunky soup uses simple, flavorful ingredients but is satisfying and comforting, and perfect for when you're feeling under the weather or to warm you on a cold winter's day.
---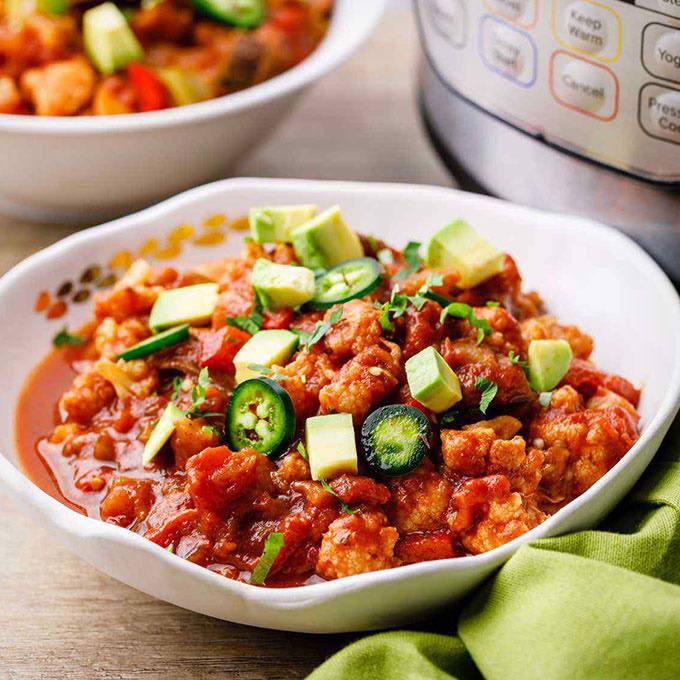 Instant Pot Paleo Cauliflower Chili
paleogrubs.com
Don't dismiss a meat-free chili without trying this paleo Instant Pot recipe, because the texture of the cauliflower as well as the myriad other vegetables more than makes up for it.
---
Instant Pot Sweet Chili Sauce
paleogrubs.com
Sweet chili sauce is a must for when you want to add a little heat to your eats, and this one can be made in less than 25 minutes using only paleo-friendly ingredients.
---
Instant Pot Sausage Pizza Soup
paleogrubs.com
Now here's an intriguing idea; sausage and pizza…in a soup! With all the things which make pizza amazing – pepperoni, Italian sausage, and pizza sauce – this soup is rich, filling, and delicious.
---
Instant Pot Chili Dogs
paleogrubs.com
Sometimes, messy foods have the best taste, and this paleo Instant Pot chili dog is the perfect case in point; it's spicy, meaty, and so much fun to eat.
---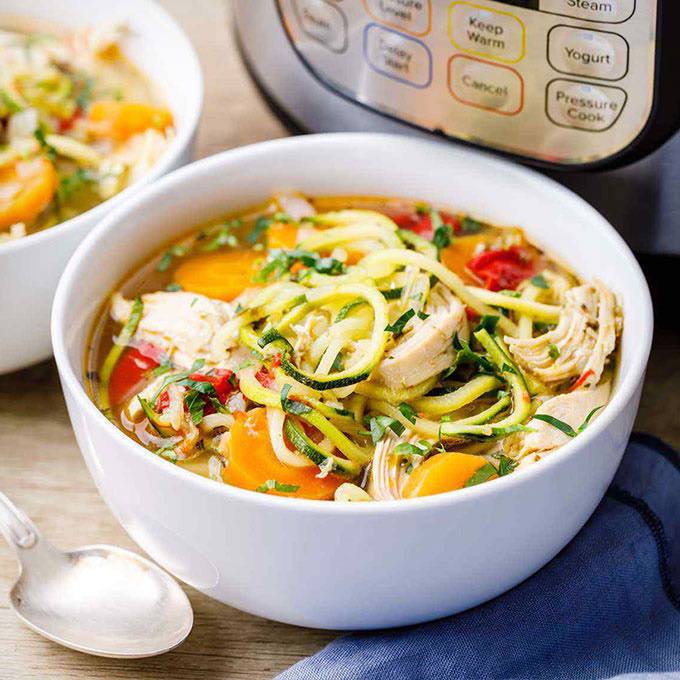 Paleo Chicken Bone Broth Soup with Zucchini Noodles
paleogrubs.com
Chicken noodle soup without noodles is just chicken soup, and where's the fun in that? Swap pasta for zucchini in this paleo recipe and you won't even notice it's missing.
---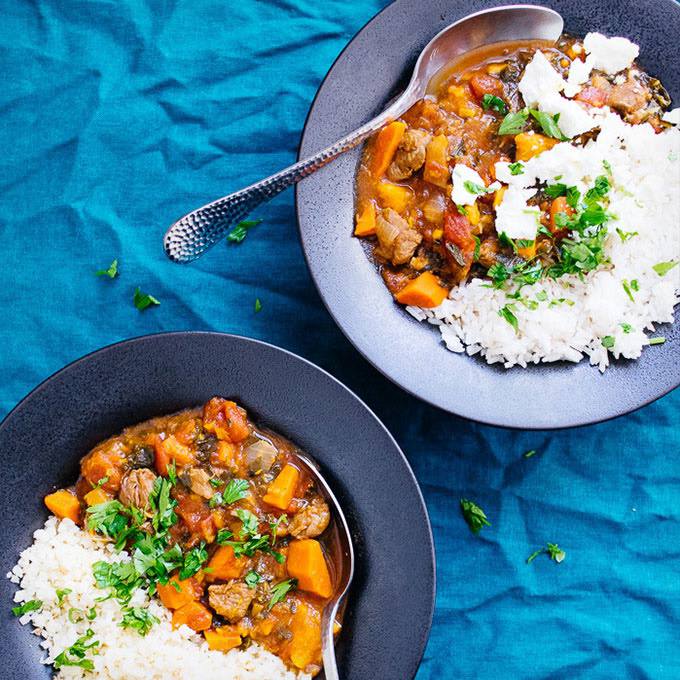 Instant Pot Moroccan Lamb Stew
reclaimingyesterday.com
Warming spices and tender lamb make this Moroccan stew one of the best dinners to eat when it's cold outside, while the apricots add just the right amount of sweetness.
---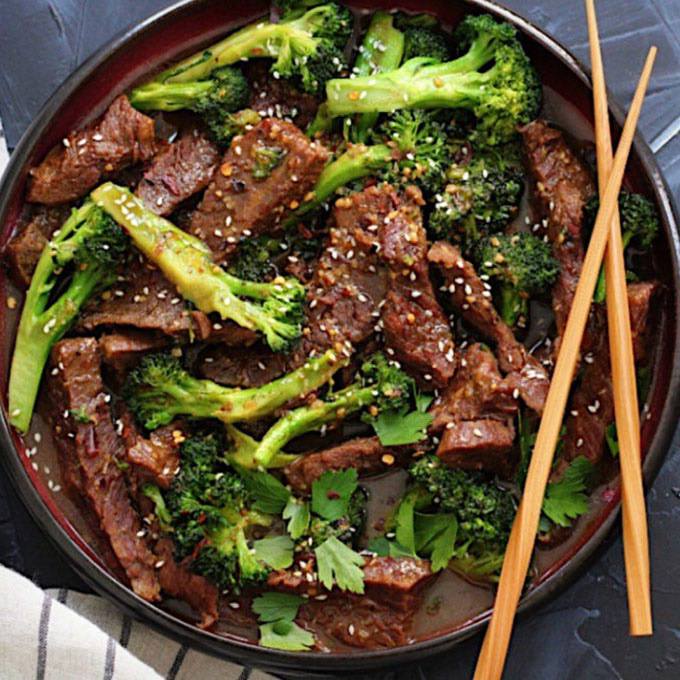 Instant Pot Beef and Broccoli
wholekitchensink.com
Save both queueing and carbs by making this Chinese 'fakeaway' beef and broccoli in the Instant Pot, but unlike the takeout, this one is paleo, keto, and Whole30-friendly, too.
---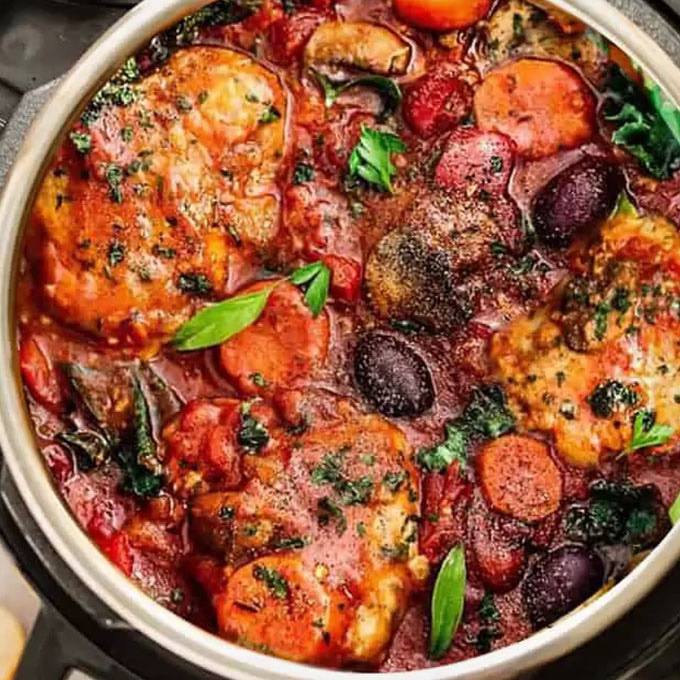 Chicken Cacciatore
lifemadesweeter.com
With a deliciously rich and thick sauce, this chicken cacciatore (which translates as hunter), is full of healthful vegetables like onions, peppers, carrots, and mushrooms and is paleo, Whole30, and keto-friendly.
---
Low Carb Instant Pot Turkey Chili
paleogrubs.com
Swap beef for turkey in this Instant Pot chili recipe and you will have a dish which is just as flavorsome but even lower in fat, and high in protein.
---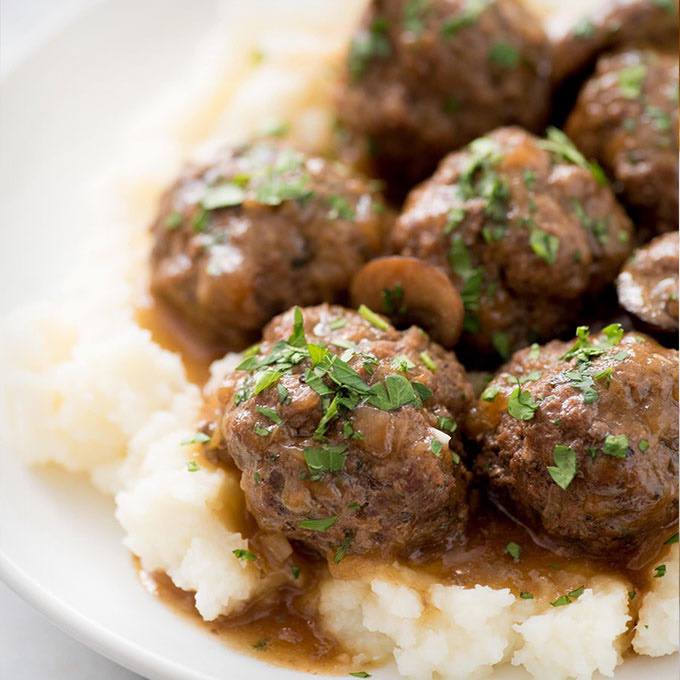 Swedish Meatballs
wholefully.com
You can serve these Swedish meatballs with a variety of sides; zucchini noodles, mixed veg, or any other paleo side you like, but whichever way you serve it, it's going to be delicious.
---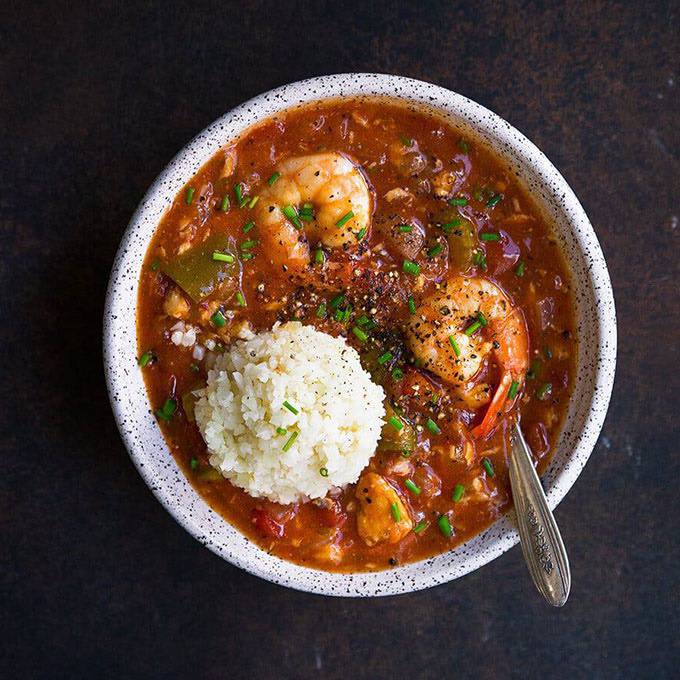 Whole30 Instant Pot Seafood Gumbo
themovementmenu.com
Boost your intake of omega-3s by using sea bass in this delicious seafood gumbo, which takes a mere 25 minutes in the Instant Pot, or a little bit longer on the stove.
---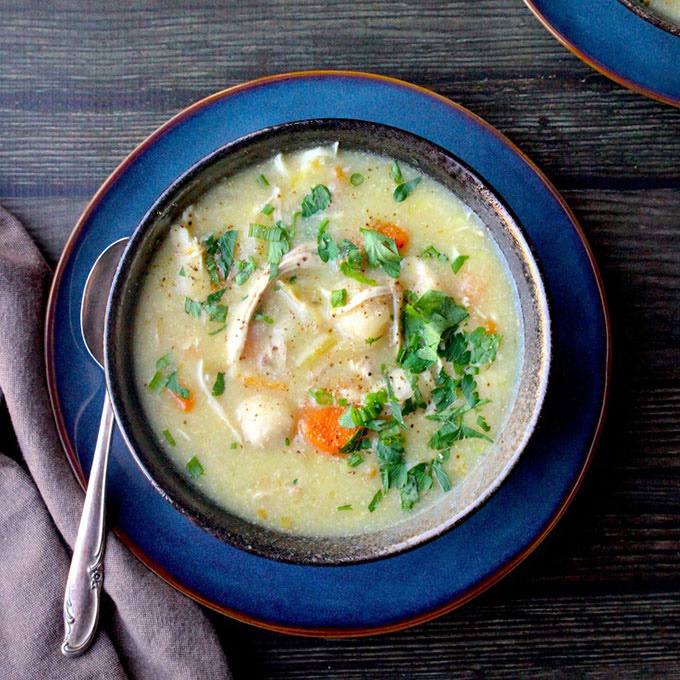 Chicken and Dumplings
zenbelly.com
Throw the ingredients in the Instant Pot when you get home from work, go and have a shower, and come back to a steaming hot bowl of delicious chicken and dumplings – yum.
---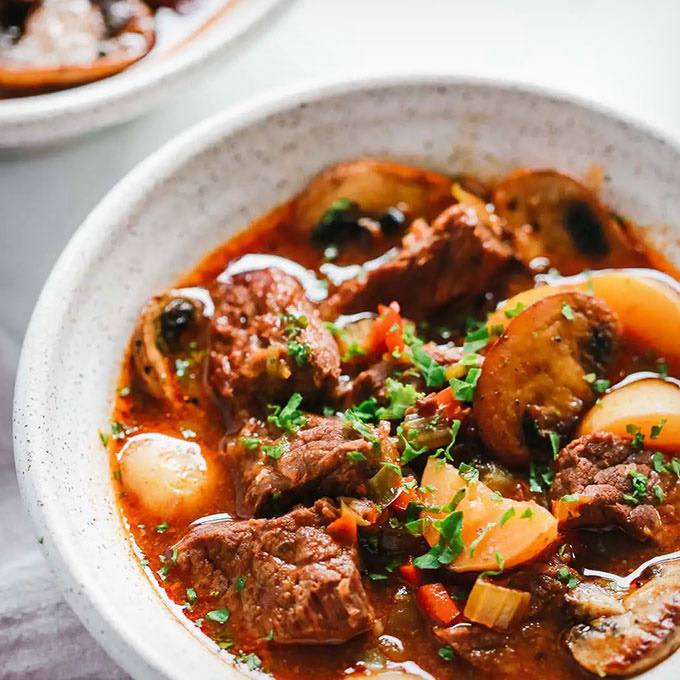 Instant Pot Beef Stew
primaverakitchen.com
A classic winter dish, beef stew is simple, nutritious, and full of vitamins and minerals from the vegetables cooked with the meat, which can be flavored with your favorite herbs and/or spices.
---
Instant Pot White Chicken Chili
paleogrubs.com
If you fancy a chili but want a change from ground beef, switch things up by making this white chili chicken which is creamy and smooth thanks to the full fat coconut milk.
---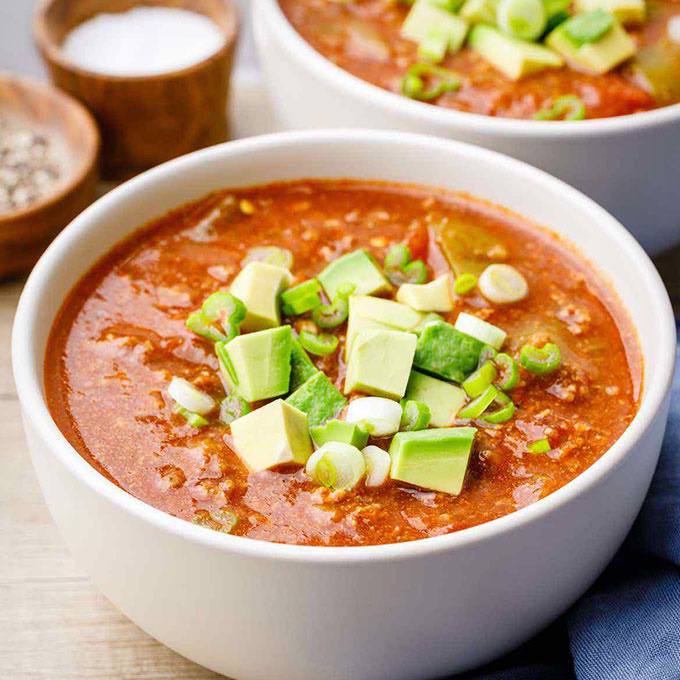 Instant Pot Ground Beef Paleo Chili
paleogrubs.com
With cayenne pepper, chili powder, and ground cumin, you just know this paleo dish is going to be full of flavor, and perfect for eating on those cold winter evenings.
---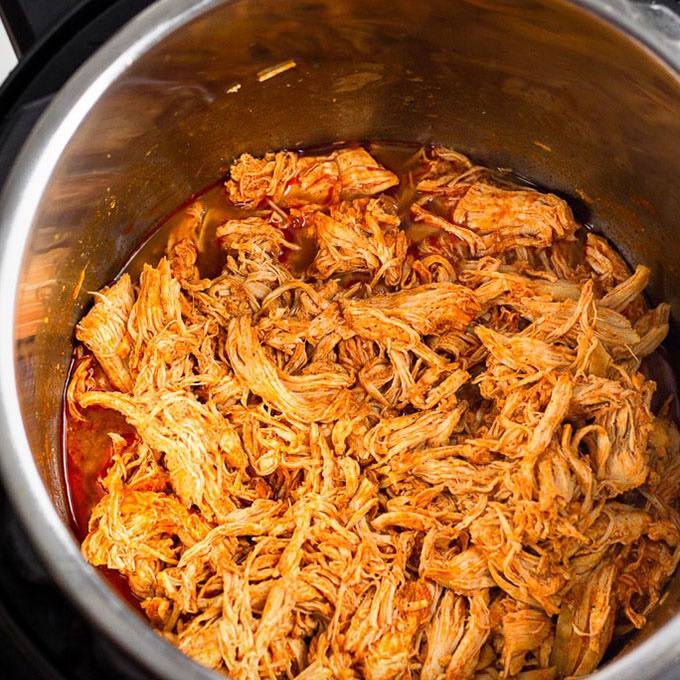 Buffalo Chicken
eatthegains.com
With just two ingredients, this paleo Instant Pot recipe will result in melt in the mouth buffalo shredded chicken to be enjoyed in tacos, sandwiches, or on a baked sweet potato.
---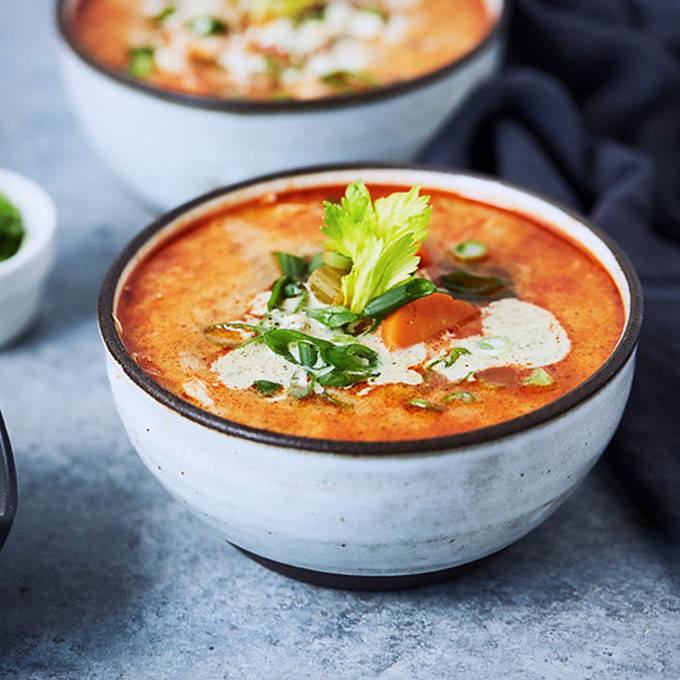 Paleo Instant Pot Buffalo Chicken Soup
tasty-yummies.com
Full of satisfying textures, this buffalo chicken soup has tender pieces of chicken, deliciously creamy broth, and chunks of onion, carrot, and celery with the flavors of hot sauce and ranch dressings.
---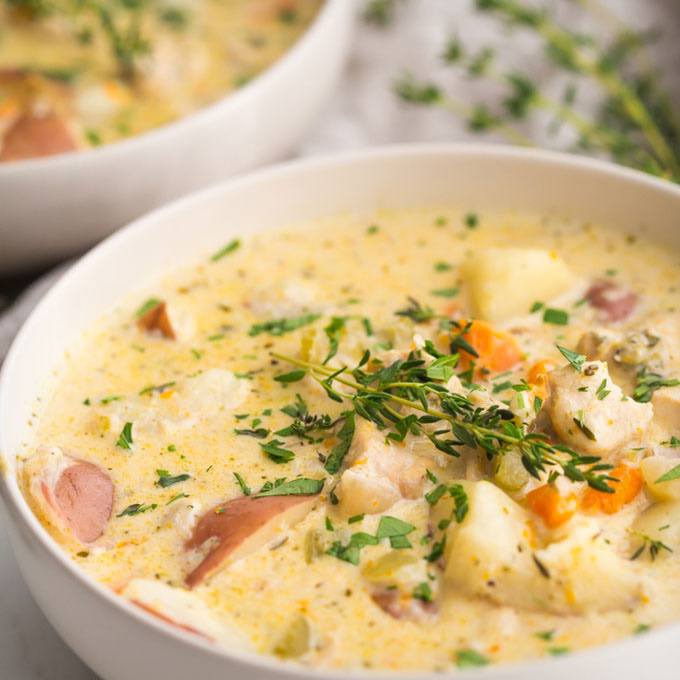 Chicken Pot Pie Soup
40aprons.com
You can have your favorite chicken pot pie in soup form with this easy recipe which takes just 25 minutes in the Instant Pot and is Whole30 and paleo-friendly.
---
Paleo Buffalo Chicken Nachos
cookathomemom.com
These buffalo chicken nachos will fast become one of your regular favorites, and with crispy potato rounds in place of the nachos, this dish is as delicious as it is colorful.
---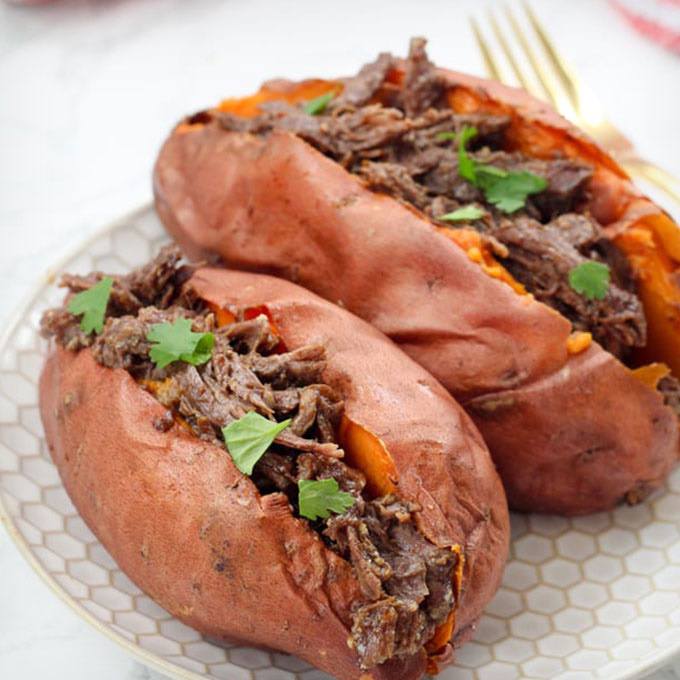 Instant Pot BBQ Stuffed Sweet Potatoes
unboundwellness.com
Chili on a baked potato is quite commonplace, but what about BBQ beef? Split a sweet potato lengthwise and you have the perfect base for this sweet and tangy Texan delight.
---
Instant Pot Country Style Ribs
beautyandthefoodie.com
If you're missing BBQ sauce now you're on a paleo plan, make your own by following this recipe, and then use it to smother some country style boneless pork ribs in the Instant Pot.
---
Whole30 Meatballs
realfoodwithjessica.com
Would you believe that these ground turkey and beef meatballs – which are bursting with Italian flavors – take a miniscule 8 minutes of cooking time in the IP?
---
Instant Pot Orange Chicken
sustainablecooks.com
If orange chicken is your go-to takeout meal, stay home and make your own version which will beat a restaurant's hands down, and it's gluten free, paleo, keto, and Whole30-friendly, too.
---
The Best Instant Pot Vegetarian Chili
paleogrubs.com
You won't miss meat at all when you make this veggie chili in the Instant Pot because it's so full of flavor and texture, and healthy vitamins and minerals, too.
---
Homestyle Paleo Chili
paleogrubs.com
A big bowl of this chunky chili could be just what the doctor ordered, especially after a cold or wet day outside, and it'll cook in the time it takes you to shower.
---
Instant Pot Paleo Butter Chicken
thebetteredblondie.com
Butter chicken sounds like a dish that's delicious but incredibly unhealthy, however, you'd be surprised how healthy it is with this Instant Pot version which uses coconut milk for its trademark creaminess.
---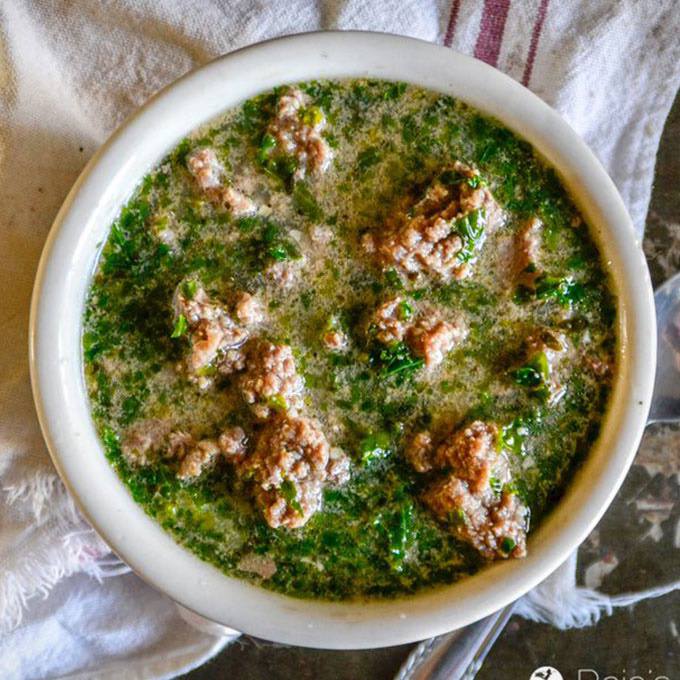 Beef and Kale Soup
raiasrecipes.com
Wonderfully vibrant, this beef and kale soup has a rich and creamy texture thanks to the coconut milk, and a little (or a lot of) chili powder to give it added oomph.
---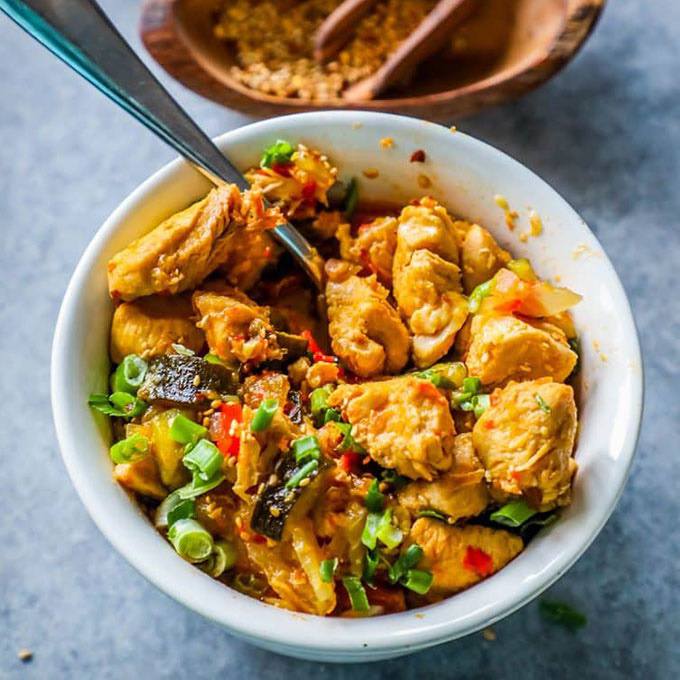 Instant Pot Paleo Kung Pao Chicken
sweetcsdesigns.com
You won't have to spend the evening shaking a wok for kung pao chicken, because this paleo version couldn't be simpler; just set the IP to 15 minutes on high and it's done.
---
Chicken Tikka Masala
tastythin.com
Arguably one of the most popular dishes from an Indian restaurant, chicken tikka masala can be on your table in just 30 minutes when you make it in the magical Instant Pot.
---
Instant Pot Turkey Meatloaf
paleogrubs.com
This turkey meatloaf is incredibly colorful to look at – the colors of the bell peppers really shine through so your tastebuds will be tingling before you've even picked up your fork.
---
Instant Pot Jambalaya
realsimplegood.com
Whether you're paleo, keto, or Whole30, this jambalaya has been revamped just for you, so you can enjoy this delicious Cajun-inspired dish with cauliflower rice without straying from the healthy path.
---
Instant Pot Pulled Pork
bowlofdelicious.com
Whatever you do with pulled pork, whether that's piling it on top of burgers or inside of tacos, this paleo-friendly recipe will help you make it in just 30 minutes.
---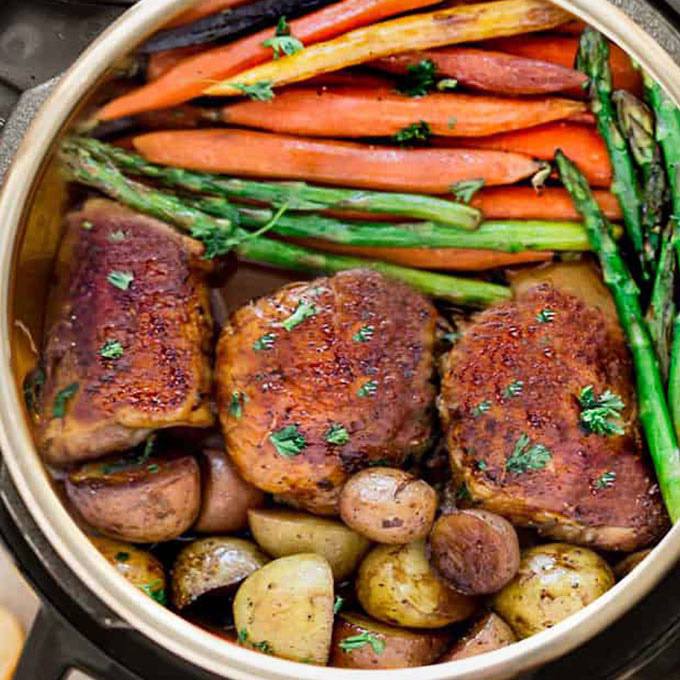 Instant Pot Balsamic Chicken
lifemadesweeter.com
If you love the flavors of balsamic vinegar and lemon, then this is the dish for you; tender chicken infused with the tangy sauce, and served with a rainbow of healthy veg.
---
Adobo Chicken
fithappyfree.com
Simple but oh so tasty, adobo chicken made in the Instant Pot makes a stunning midweek meal as it takes just 30 minutes to cook and needs just a handful of ingredients.
---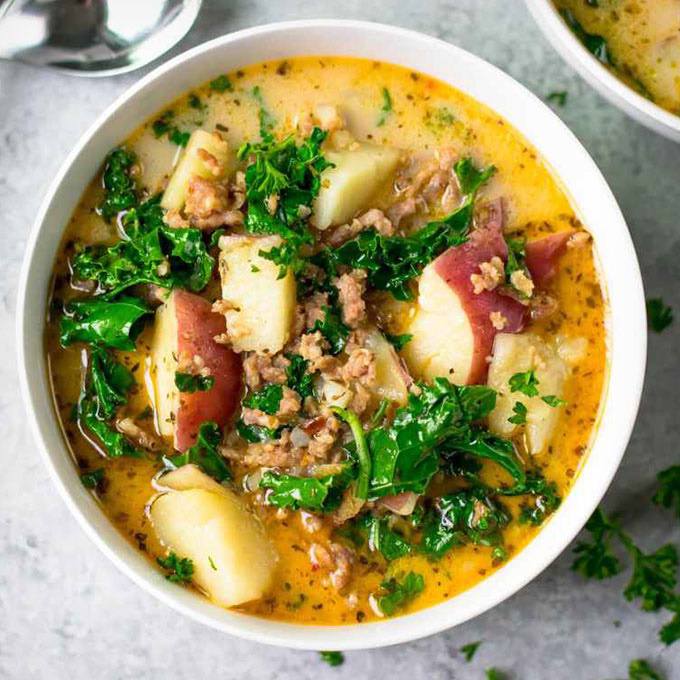 Zuppa Toscana
beautyandthebenchpress.com
Zuppa sounds so much better than soup, and this Zuppa Toscana takes it one step further, because it takes all the flavors of Italy and puts them together in one delicious bowl.
---
Instant Pot Paleo Stuffed Grape Leaves
fedandfulfilled.com
Sample Syrian cuisine by making these Instant Pot paleo stuffed grape leaves; filled with ground beef, dried fruits, and Middle Eastern spices, the parcels are cooked in a tangy lemon broth.
---
Paleo Mississippi Pot Roast
maryswholelife.com
Use the juices from this Mississippi pot roast to make a gravy, and you will have a delectable meaty dish which is filled with flavors like garlic, dill, and pepperoncinis.
---
(You may also like: 85 Easy Paleo Dessert Recipes to Satisfy Your Cravings)