There's a reason we often turn to cereals and other convenience items for breakfast: who feels like cooking in the morning? Some mornings I love to make a big hot breakfast, and other days I'm not feeling it. On those days, I turn to paleo granola with some fresh fruit and almond milk, and I always make my own with one of these incredible recipes.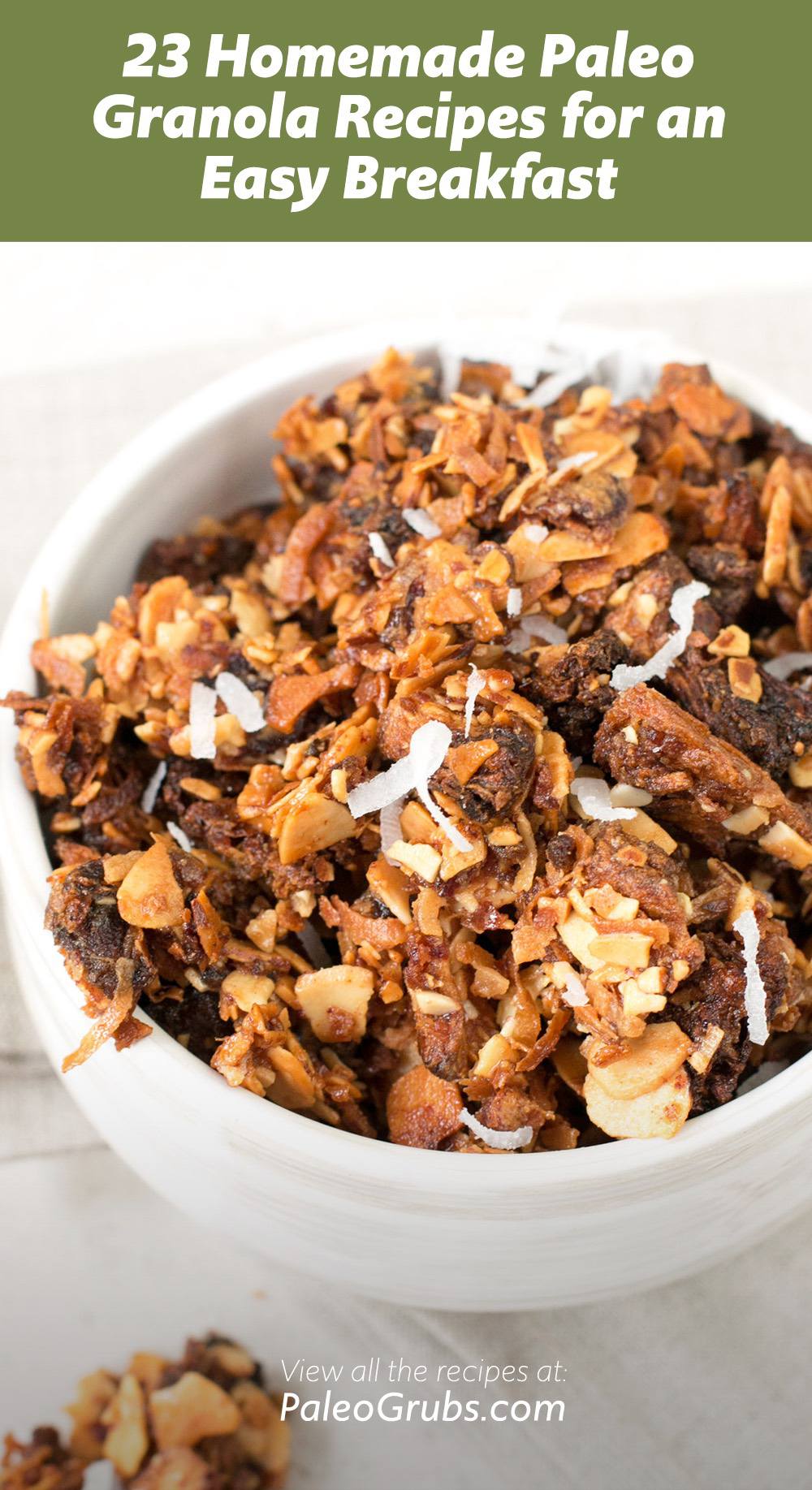 Fat Burning Tropical Paleo Granola
paleogrubs.com
If the idea of eating and burning fat at the same time appeals to you, this recipe will become your favorite. A tasty way to start the day, this tropical granola will not only make you think of summer, but is also filled with fat burning, natural ingredients, too.
---
Paleo Granola Breakfast Cups with Homemade Cashew Yogurt
paleogrubs.com
Lower your cholesterol and protect you heart with this innovative breakfast yogurt cup idea. Made from nuts and seeds, these baked granola cups are filled with a delicious cashew and honey yogurt which is enriched with chia seeds and topped with fresh fruit for a superfood breakfast feast.
---
Homemade Gingerbread Paleo Granola
paleogrubs.com
Add a warm, autumnal feel to breakfast with this irresistible gingerbread granola. Made with almonds, pecans, and pepitas, the mix is spiced with cinnamon, ginger, and cloves before being added to a sticky, rich coconut oil and maple sauce and baked to produce a crispy, crunchy breakfast or snack.
---
Crunchy Cherry Pistachio Paleo Granola Bars
paleogrubs.com
If you need a grab and go breakfast that's also super healthy, these cherry pistachio bars will become your new go-to. The salty pistachios complement the tart cherries beautifully, and they can be kept in the refrigerator for those mad morning rushes when sitting down isn't an option.
---
Breakfast Granola and Berry Parfait
paleogrubs.com
Fruit makes a great start to the day, but when you want something a little more substantial, this parfait is an excellent choice. Using full fat coconut milk eliminates the need for dairy yogurt, while the homemade sweet and salty granola adds a satisfying and substantial crunch.
---
Sweet and Salty Paleo Granola
paleogrubs.com
Toasted coconut and roasted nuts give this sweet and salty granola its rich, luxurious taste, and you can customize the recipe whichever way you want. Simply add the nuts, seeds, and dried fruits of your choice and you'll have a delicious breakfast or handy but healthy snack.
---
Vanilla Cinnamon Paleo Granola
nourishwithkristine.com
Vanilla and cinnamon give this paleo granola recipe a warming, comforting taste, making it ideal for the colder months. It's incredibly easy to make, and you can mix and match the nuts and seeds to suit your tastes, before drenching them in maple syrup and roasting them for 15 minutes.
---
Turmeric Stove Top Granola
asaucykitchen.com
Ease pain and inflammation in the most deliciously healthy way possible with this turmeric stove top granola. Hailed as a superfood, this golden spice is renowned for an array of health conditions, which makes it a vital part of this warming breakfast dish, along with comforting cinnamon.
---
Apple Cinnamon Grain-free Granola
dashofjazz.com
If the smell of apple pie fills you with happiness, so will this homemade granola. As it bakes, the aromas of apple, cinnamon, and vanilla will fill the home, and once it's out of the oven it can be eaten with almond milk or as a healthy snack.
---
5-minute Paleo Granola
wifemamafoodie.com
If you want to make your own granola but don't have a lot of time, this recipe will be a lifesaver. With just 5 minutes of sautéing on the stove top, this healthy mix of coconut, seeds, nuts, and spices will be ready to set as it cools.
---
Blueberry Coconut Granola
unboundwellness.com
Go grain-free with your granola by making this blueberry and coconut version, and if you're AIP you can swap the almonds for more coconut, too. With baked apple chips and dried blueberries, this breakfast mix is sweetened with honey and cinnamon for an indulgent but healthy start to the day.
---
Cranberry Walnut Paleo Granola
cookeatpaleo.com
One taste of this cranberry and walnut mix and you'll wonder why you ever liked foods which were laden with sugar! Naturally sweetened with dried fruit and honey or maple syrup, this granola takes less than 30 minutes to make and can be customized to suit your preferences.
---
Chocolate Sea Salt Paleo Granola
madaboutfood.co
Chocolate cereals are filled with refined sugars, and aren't a great way to start the day. This granola, on the other hand, is super healthy as well as being delicious, and is covered in a maple syrup and cocoa coating before being baked to perfection.
---
Chocolate Paleo Granola
glutenfreepalate.com
Granola can be as plain or as luxurious as you make it, and this version is definitely in the latter category. Packed with heart-healthy fats thanks to the nuts and seeds included, this recipe also uses unsweetened cocoa and pure maple syrup to give it a decadent feel.
---
Grain-free Coconut Cardamom Granola
frompastatopaleo.com
Add an unusual flavor to your breakfast with this grain-free cardamom and coconut granola. Earthy and citrusy at the same time, this Indian spice is used in chai tea and adds a wonderful depth of flavor, and is perfect for elevating this breakfast mix above the norm.
---
Goji Berry Granola
whatgreatgrandmaate.com
With up to 500 times more vitamin C than oranges, goji berries are the star attraction in this breakfast mix of nuts, seeds, and honey, although if you don't like these little ruby superfoods, you can always swap them for another dried fruit.
---
Maple Almond Butter Granola
justjessieb.com
The vanilla and cinnamon in this crunchy granola give it an almost 'dessert-like' flavor, and served on top of a dairy-free yogurt it could easily be one, too. It's also perfect as a healthy snack, so make sure when you break it up, you leave some lovely big clusters.
---
Fruity Paleo Granola Breakfast Pizza
asaucykitchen.com
This is definitely a recipe to be kept for when you have guests for breakfast, because it's simply stunning to look at. The 'pizza' crust is made using dates, nuts, and seeds, which is then filled with a decadent coconut cream and topped with vibrant fresh fruit.
---
Banana Maple Granola
paleorunningmomma.com
If you have a ripe banana to use but you're sick of making banana bread, try making a batch of paleo granola instead. Naturally sweet and healthy, bananas are mixed with almond butter, coconut oil, and maple syrup and poured over mixed nuts and coconut to form a sweet and fruity breakfast.
---
No Bake Paleo Granola Cups
thebigmansworld.com
Turn a store bought granola into something a little more exciting by making these 3-ingredient no-bake granola cups. Perfect as a healthy snack, the mix is combined with melted almond butter and maple syrup and then set into muffin tins and left to firm in the fridge.
---
Orange Ginger Granola
bakerita.com
Both grain-free and vegan, this granola makes a delicious change to the classic flavors around. With orange and crystallized ginger (so ever-so-slightly not paleo since the ginger is sweetened), this mix has a warm and fruity taste which goes beautifully with a non-dairy yogurt.
---
Chunky Paleo Granola with Clusters
beamingbaker.com
One of the best things about granola is the big clusters which you can pick up with your fingers, and this recipe certainly doesn't disappoint. With roughly chopped nuts, coconut, and almond flour, this mix is combined in one bowl with maple syrup and cinnamon and baked until golden and crispy.
---
Paleo Muesli
sustainablecooks.com
Filling enough to keep you going until lunchtime, this recipe is crammed with nuts, seeds, and dried fruits of your choice. Sweetened with maple syrup and cinnamon, you can also add or subtract any of the nuts, seeds, or fruit and replace them with something you like better, too.
---
(You may also like: Crunchy Cherry Pistachio Paleo Granola Bars)